15+ Best Marketing Tools for your Website
Grammarly
How does Grammarly help your marketing?
Bad grammar ruins business. Plain and simple! Every online business owner should use Grammarly, no matter their grammar/writing skills. Grammarly helps you fix grammar errors, detect plagiarism and even improve your content!
Grammarly Pricing Plans
Grammarly has an individual plan that starts at $11.66/month if paid annually, but you can also use it for free! Give it a try, you have nothing to lose, though I know you'll never publish your content without this tool again.
Wow Popup
How does Wow Popup help your marketing?
WowPopup is a great WordPress popup plugin serving your web marketing purposes, converting your visitors into customers, subscribers, viewers, followers, buyers … you name it!
Wow Popup Pricing Plans
Wow Popup has a one-time price – $19.00, but there is also a light version of the plugin available.
Sumo
How does Sumo help your marketing?
With zero coding, Sumo empowers your website with a pack of tools to boost your traffic. Start converting your visitors into lifelong buyers in less than a minute. Check out these examples of Sumo.com's tools.
Sumo Pricing Plans
Sumo has a free plan for 200 subscribers and basic e-mail integrations. Try it and see if you find it useful. And if you do, you can upgrade to a bigger plan starting with $24.00/month.
SEMrush
How does SEMrush help your marketing?
Explore your online competition and market yourself easier with SEMRush, an all-in-one digital marketing suite with tools that cover SEO, PPC, keyword research, competitive analysis, social media, PR, content, and more. SEMRush's website is also packed with a rich
set of e-books
to help your SEO.
SEMrush Pricing Plans
SEMRush starts from $99.95/month but there is also a free level account available where you can perform 10 searches a day. We recommend you give SEMrush a try, you will not regret it!
HubSpot
How does HubSpot help your marketing?
With HubSpot, you get an arsenal of tools that you can use to turn visitors into buyers. Get free lead flows, free collected forms, free kickback emails, a free dashboard and more free tools, forever! Or at least, that's what Hubspot promises! Give it a try, see how visitors interact with your website and convert more of them into paying buyers.
HubSpot Pricing Plans
HubSpot marketing tools start from $200/month but there is a free forever plan you can start using right now!
Lucky Orange
How does Lucky Orange help your marketing?
If a visitor has just left your website without converting, Lucky Orange can help you see everything they did before they left. Lucky Orange automatically creates a personal recording of each visitor to your website.
Lucky Orange Pricing Plans
Lucky Orange pricing plans start from $10.00/month (for 25,000 page views) to $100.00/month (for 500,000 page views) media visibility package, but there is a free trial available.
Articoloo
How does Articoloo help your marketing?
Content is the king in any SEO & Marketing campaign. With Articoloo you get a unique article about any topic for less than $1. How great is that!? Articoloo can create, rewrite or summarize content in a minute for the most afforable prices.
Articoloo Pricing Plans
Articoloo pricing plans range from free to $29.00/month for 30 articles to $99.00/month for 250 articles. For any selected plan you get an extra month for free!
Create an article with Articoloo
Click Meter
How does Click Meter help your marketing?
Click Meter monitors, compares and optimizes all your marketing links in one place to boost your conversion rate. The process is quick and easy – you create a tracking link that you'll use it in your ads and then watch real-time reports.
Click Meter Pricing Plans
Click Meter pricing plans range from free to $29.00/month to $349.00/month. Although Click Meter doesn't offer any free trial, there is a 30 days money back guarantee policy, so you can safely try it and see if it suits your needs!
Improvely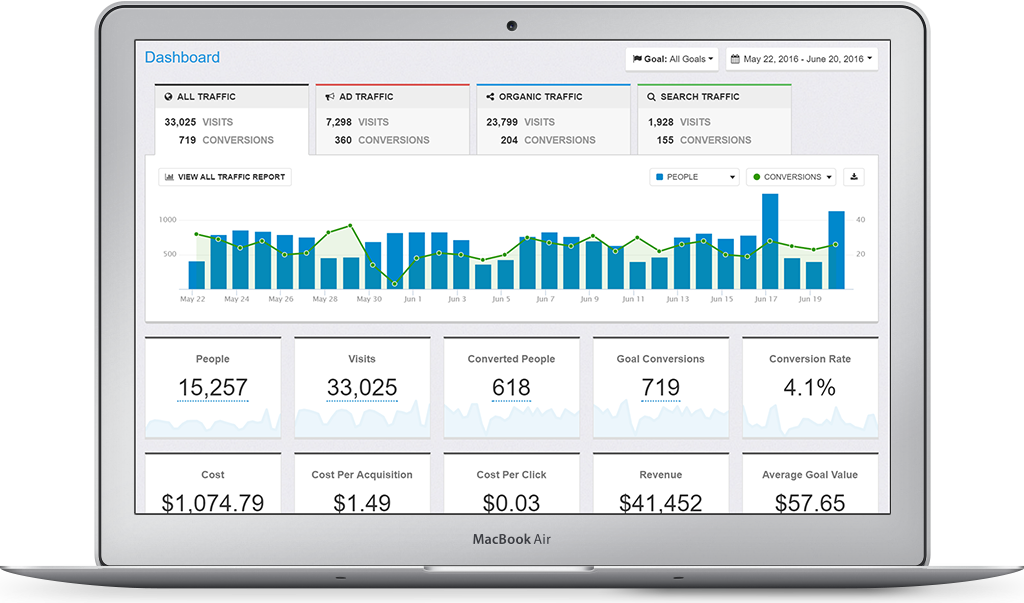 How does Improvely help your marketing?
Improvely tracks, tests and optimizes your online marketing. It captures the source of every registration and sale, no matter if it is via a marketing campaign or any other method. Improvely also has a built-in click fraud monitoring so you will get notified of potential click fraud in order to take action and protect your advertising budget. With Improvely you will get to know the people using your site, the app creates an activity profile for each visitor.
Improvely Pricing Plans
Improvely plans range from $29.00/month to $299.00/month. Improvely offers a free trial and you will only be billed at the end of it if you don't cancel before then. You can cancel at any time.
Visual Visitor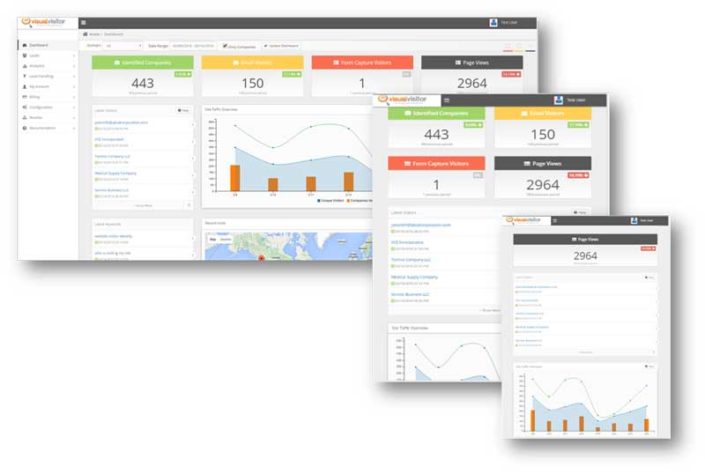 How does Visual Visitor help your marketing?
According to Visual Visitor, only around 2% of website visitors identify themselves. This is where this tool comes in handy. Visual Visitor helps you identify your website visitors with more than the usual location or IP Address? Visual Visitor makes visitor tracking and identification easy. Having a tool to identify website visitors that showed real interest in your product is a valuable asset that can open a whole new approach to your business. Evaluate if you are attracting the right audience!
Visual Visitor Pricing Plans
Visual Visitor plans range from free to $59.00/month. Decide if this marketing tool is for you by using their free trial. A credit card is not required!
Imecaff
How does Imecaff help your marketing?
Imecaff is an affiliate search tool. If your business runs an affiliate program, Imecaff helps you find affiliates/B2B partners relevant to your niche, so you will not waste your time on searching irrelevant affiliates.
Imecaff Pricing Plans
Imecaff plans range from free to $270/month for 100 relevant websites to $1,800/month for 1000 relevant websites (this means 500 hours of manual work saved).
Search Affiliates with Imecaff
48 Hours Logo
How does 48 Hours Logo help your marketing?
When people see an attractive relevant logo on advertisements and promotional products, it stands out from the crowd. The logo is a visual representation of everything your business stands for, your visitors will remember you by this very visual representation. A poor logo concept can easily destroy your business company which is why having a professional creating it is a must. With 48 Hours Logo you can start a contest and receive logo concepts within hours for $29.00 only!
48 Hours Logo Pricing Plans
48 Hours Logo Plans plans range from free to $29.00 to $198.00.
Start your contest at 48 Hours Logo
Text Magick
How does Text Magick help your marketing?
With TextMagic you can send notifications, alerts, reminders, confirmations and SMS marketing campaigns. It is a mass text-messaging platform for sending SMS texts (200+ countries) to your buyers and staff. With excellent reviews TextMagic promisses to boost SMS marketing results.
Text Magick Pricing Plans
Text Magick prices depend on the destination country, but you can try it for free.
Wistia
How does Wistia help your marketing?
Wistia helps you with video marketing. More specifically, Wistia is a video hosting, with playback on any device, and no ads. So what, YouTube does this too. For free. True, but Wistia's analytics offer more detail than YouTube. And one doesn't exclude the other, so you can use them both. Also, with Wistia video you have your own custom design, oriented to marketing, support, and sales.
Wistia Pricing Plans
Wistia can be used for free, with 3 video limit or with a pro plan – $99.00/month.
Google Trends
How does Google Trends help your marketing?
Find out new ideas for your content. See what people are interested in nowadays. Select a country, type your niche keywords and get insights from Google itself.
Google Trends Pricing Plans
Google Trends is a valuable asset, yet free.
Likealyzer
How does Likealyzer help your marketing?
Likealyzer help brands succeed on Facebook. Consider it your personal Facebook advisor. This app's recommendations will point you in the right direction.
Likealyzer Pricing Plans
Likealyzer is free and it will only take a few seconds.
Crazy Egg
How does Crazy Egg help your marketing?
Crazy Egg is an A/B Testing & Heatmaps. Heatmaps show how people are browsing using your website, what are they clicking or totally avoid. To use this tool, all you have to do is copy and paste a small code snippet into your site, no programming required.
Crazy Egg Pricing Plans
Crazy Egg has a 30 days free plan.
Spy your visitors with Crazy Egg
Google Forms
How Google Forms help your marketing?
With Google Forms you can create custom forms for surveys and questionnaires for free.
Create a free form with Google Forms
Bootstrap Starter
How does Bootstrap Starter help your marketing?
If you're looking for a rapid way to start your Bootstrap landing page, Bootstrap Starter offers a set of free Bootstrap templates, open source, MIT licensed.